[Metin2] M2Bob crack 2015:-
This crack is made by me and 1337 few months ago but still working and let you bot 24/24h with all the premium functions:
this program has everything you need for effective Metin2 gaming, it contains
a Levelbot, a Farmbot, a Fishbot, a Switchbot(P-Server), a Shopbot, a Shopsearchbot, a Buffbot and a Spambot.
UPDATED: WOKING WITH VERSION 5.5.8 on 08/12/2015
Go to
Register a new account with any username.
Download the "patcher", it will download and install m2bob for you.
Download "m2bob_patcher v1.1" from:
(this crack force the client to recognize ad valid the logins below and block server side comunications).
Run "m2bob_patcher v1.1 and select m2bob.
When the setup window show up login with these details: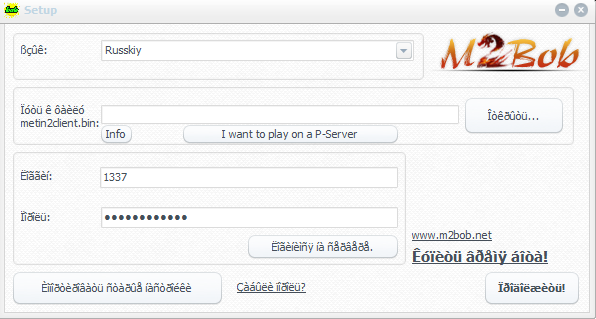 After sometimes your patched license will expire and also when a new version comes out it doesen't work too. Patch it again!
Download:
SERIOUSLY, HIT THAT
BUTTON! THAT'S A MOTIVATING FACTOR!
** NEW VERSION OUT **
I don't think it is necessary for a virus scan, but for who is skeptical, here it is!
BTC Donations:- 16EJLidibi2rV2XepNT4HodBFygJEQaqmG